WARNING:
The TrackAbout MetaWiki has been deprecated and is no longer being updated. Please visit our new TrackAbout Knowledge Base at
https://supportkb.trackabout.com
for the most-up-to-date documentation on TrackAbout and TrackAbout Mobile.
Dynamic Forms
Jump to navigation
Jump to search
TrackAbout Module
Module Name:
Dynamic Forms
Short Description
TrackAbout Dynamic Forms is a flexible way to collect customizable data from a mobile device.
Supported In:
TAMobile 5, TAMobile 6 Rugged, TAMobile Android, TAMobile iOS, TAMobile 6 Desktop
Business Process:
Asset Management
← Back to list
Challenge
You want to collect more information in a certain mobile workflow than TrackAbout collects by default.
Perhaps you want to eliminate a paper form as part of a process and instead collect the same information electronically.
Overview
The Dynamic Forms Module allows extra data to be collected about assets, processes or procedures using the TrackAbout mobile apps. This greatly extends the capabilities of TrackAbout to track almost anything.
The name 'Dynamic Forms' is used because this extra data is collected on forms that are created dynamically, on-the-fly, from a set of instructions stored on the server.
This module is priced separately. Contact Sales for more information on pricing.
How it works
Today, the TrackAbout Support Team works with customers to design new dynamic forms or modify old ones.
Dynamic forms may be built to enhance or expand the following mobile actions:
Add New
Secondary AddNew
PreFill
Fill
Post Fill
Reclassify
Maintenance
Add Pack
Delivery
Collect Rental Info
An Example

This first image is of the two main mobile device forms in the Fill action. The first form sets the product code and lot number and the second form collects tracking numbers.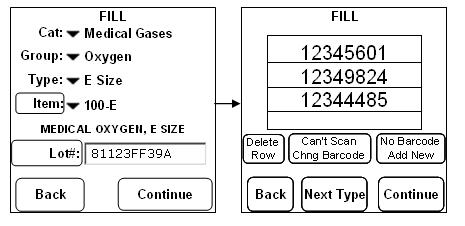 In this second image, three dynamic forms have been added. The dynamic forms are highlighted in red.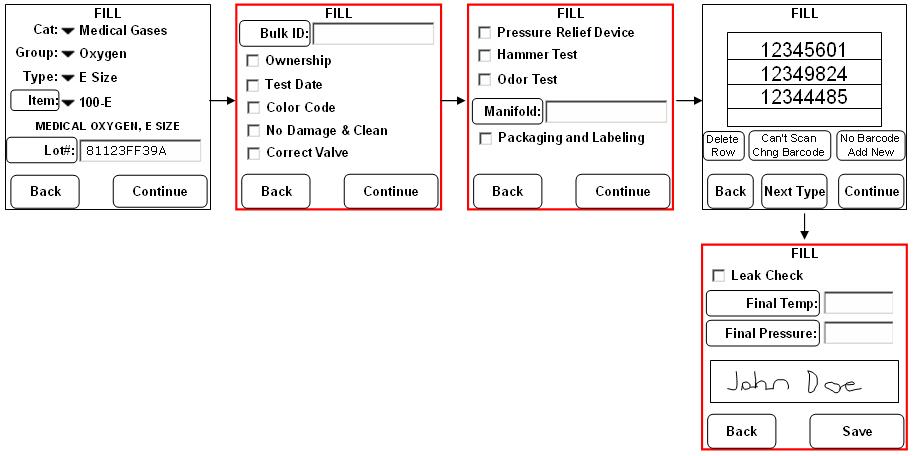 Features
Conditional Fields
Calculated Fields