Getting Started
Use our Getting Started Guides to help you start tracking now:
TrackAbout runs on two supported platforms
TAMobile 7 (iOS/Android) - runs on smartphones and tablets using iOS and Android.
TAMobile 6 (Compact Framework) - this platform runs on Windows rugged devices
Unsupported platform - TAMobile 5 (AppForge) - this platform is no longer supported. Please contact TrackAbout Support if you have not yet started your conversion to TAMobile 6 or TAMobile 7.
How do you know if you're using TAMobile 5? Your TrackAbout App login screen will appear like this: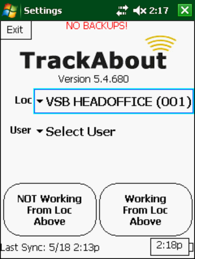 Troubleshooting problems with mobile computers and synchronization
Pricing information for buying common scanning hardware from TrackAbout
TrackAbout Release Notes
Answers to frequently asked questions
Simple answers to various issues
List of key concepts; this is like a glossary or list of terms
List and description of modules and features by platform.
Information on purchasing and requesting custom reports.
Information about tracking labels/tags. TrackAbout customers traditionally used barcodes, QR Codes or RFID tags.
Describes the public Application Programmer Interface for integrating with TrackAbout and other points of integration.
Contact Us -

Use This for Critical and Urgent Issues
Contact information for TrackAbout support and information regarding system maintenance windows.
Growing library of On-Demand Training Videos